Red-Wine Pears with Chocolate Sauce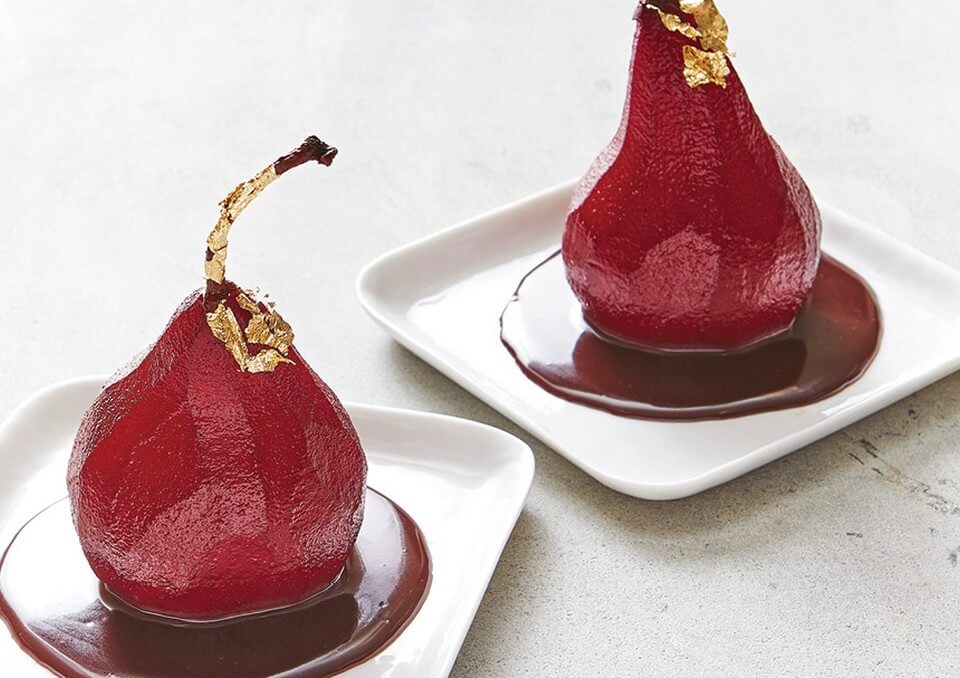 This recipe is great on its own but can also be served with a dollop of whipped cream or a scoop of vanilla ice cream. You may have leftover chocolate-wine sauce. Gently reheat any left over, and drizzle over vanilla ice cream.
Ingredients
1 cup dry red wine, such as Cabernet Sauvignon or Zinfandel
1/3 cup granulated sugar
2 cinnamon sticks
10 wide strips of zest from 1 large or 2 medium navel oranges
1/2 vanilla bean, split and scraped, or 1-1/2 tsp. vanilla bean paste
2 medium Bosc pears, ripe but firm, peeled, stems left intact (about 6 oz. each)
1/2 cup semisweet chocolate chips or chunks (about 3 oz.)
1/4 cup heavy cream
Edible gold leaf (optional)
Preparation
In a 1-1/2-qt. pot with a lid, combine the wine, sugar, cinnamon, zest, and vanilla over medium heat. Bring to a rapid simmer, stirring until the sugar dissolves. Slice a tiny piece from the bottom of each pear to make it level. Add the pears to the pot, laying them on their sides half submerged in the liquid. Cover and reduce the heat to low. Simmer for15 minutes. Turn the pears, cover, and simmer until mostly tender when pierced with a toothpick, an additional 15 minutes. Remove from the heat, turn the pears, and let cool, covered, until room temperature, turning once more halfway through cooling time, about 1-1/2 hours.
When the pears have cooled, remove them from the wine. Remove and discard the cinnamon sticks, vanilla bean (if using), and zest.
Bring the wine to a boil over medium heat, and reduce to 1/2 cup to 1/3 cup, about 5 minutes. The wine should be glossy and syrupy.
Meanwhile, in a small bowl, combine the chocolate and heavy cream. Microwave in 10-second increments, stirring well between each, until the mixture is smooth, about 1 minute. (Alternatively, melt the chocolate with the cream in a small pot on the stovetop.)
Put each pear on a dessert plate or in a shallow bowl. Spoon about 1 tsp. of the wine sauce over the pears. Stir the remaining wine sauce into the chocolate sauce, and spoon some around the bottom of each pear or drizzle over each pear. Garnish with the gold leaf, if you like. Serve immediately.